Despite the high acclaim given to his novels, Adrian McKinty has yet to break out in these United States. He has appeared on several intelligent 2012 Best of the Year lists for Cold, Cold Ground, including: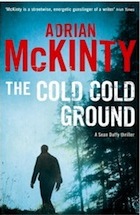 1. Random House author Tony Black's list. A very interesting list, half of which I had not heard mentioned elsewhere. Link.
2. Cold, Cold Ground also made the top five list at the Crime Fiction Lover's blog: link.
3. Cold, Cold Ground made the top five list at the excellent book blog, Crimepieces, link.
4. Recently Peter Rozovsky wrote an article for Philly.com listing Adrian McKinty among his favorite authors and least known (in the United States). Link.
5. Cold, Cold Ground makes author Cary Watson's best list at this link.
6. Cold, Cold Ground makes noted author Declan Burke's best of 2012 list at this link.
7. Cold, Cold Ground makes the top five over at the BiteTheBook blog at this link. A very nice review here.
8. And, of course, Cold, Cold Ground shared top spot of my Best Thriller list, (link), and reviewed it here.
These are by no means the complete lists of those who have thus far read and regaled the novel, but a sampling of those I've encountered and can now recall. In Europe, where Adrian McKinty is better known, there are a great many independent reviews touting the book in newspapers and other media such as Eoin McNamee's excellect review from The Guardian here...
I don't have McKinty's new book yet. It is a sequel entitled The Sirens In The Street, available now in parts of Europe and it will be released in the United States soon. The opening of the book is linked from the the author's website, and it is compelling: Link.
_____________
As for my other crime novel pick of 2012, Max Allan Collins' Target: Lancer was not released until the end of November, and so it got a late start--t
oo late to appear on many lists although early reviews are gushingly positive.
Over at the At The Scene of the Crime Blog, one of the new discoveries listed there was Max Allan Collins (link). I too discovered Collins with Target: Lancer, quite by accident. I'd tried him before and had mistakenly written him off as a Mickey Spillane clone. It turns out, the man has been writing novels in various styles, one of which has the highly intelligent and civilized tone of the private investigator in Target: Lancer.